We have prepared an extended operator IPTV / OTT service scheme with Microimpuls products, using which you can build the right infrastructure that allows further scaling and development of the service.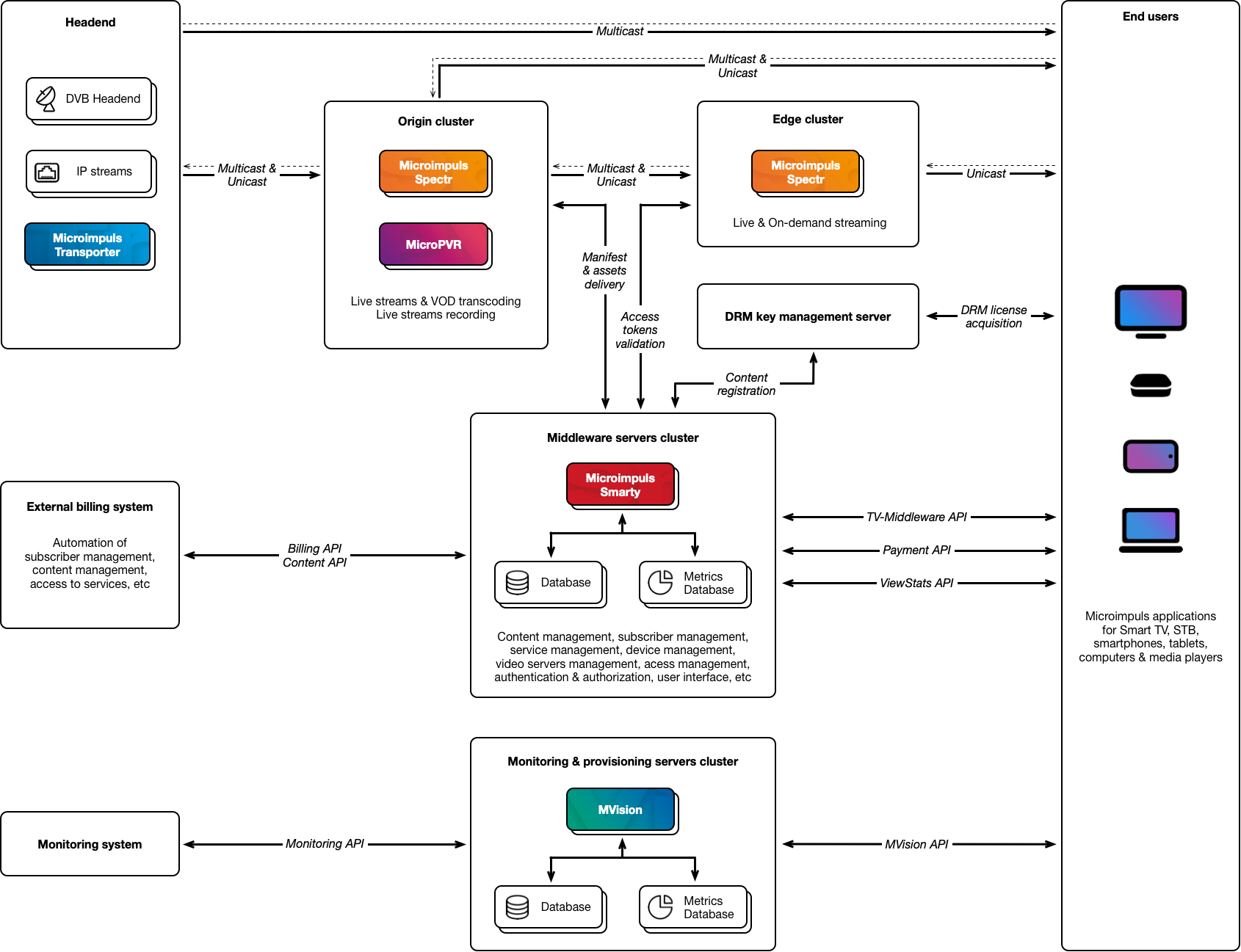 End users
On the right side of the diagram is the End users block – these are your subscribers who can use various devices to view the service, such as set-top boxes on Linux and Android, TVs with Smart TV function, smartphones and tablets, as well as other devices on which there is the possibility of viewing video content.
The Microimpuls platform is compatible with most of these devices, and we are constantly working to add support for new device types and models.
Headend
On the left side of the diagram there is a Headend block – this is the head station of the operator or the place where the video signals of TV channels are formed. The signal can be received in various ways – from the satellite (DVB-S/S2), from the air broadcast (DVB-T/T2), over IP (terrestrial delivery methods) via a direct connection to the source or via the Internet.
In the latter case, the Microimpuls Transporter solution, a special software designed to deliver TV channel signals over the Internet without packet loss, will be useful.
As a result, video streams of TV channels in various formats are formed at the operator's head station, which should then be brought to the end subscribers. The best way is to transcode all signals to HLS format – the most widely used video streaming standard in IP. This will ensure maximum device support and stable video playback on any screen.
Origin-Edge cluster
Between the head station of the operator and subscribers on the diagram is the most time-consuming part – components for transcoding and bringing content to subscriber devices.
In the Origin-Edge scheme, content preparation servers act as Origin, and servers for distributing video streams to end subscribers act as Edge. This reduces the number of Origin servers to the minimum required for video preparation, improves their security and reliability, and reduces network bandwidth requirements between Origin and Edge servers. At the same time, only Edge servers remain dependent on the number of subscribers and their total load.
Origin cluster – a group of video servers designed for video transcoding (changing the stream format, video and audio codecs and their parameters), as well as video recording for the delayed viewing service (Timeshift, Catch-Up, Pause Live TV).
Microimpuls Spectr solution will help you transcode. This software allows you to transcode video into the desired format, and then generate an output stream from it and distribute it to users via IP, or transfer it to a further video processing node.
MicroPVR solution can be used to record video. This software is designed to record video in files for the required number of days, with automatic archive rotation, which will provide subscribers with non-linear viewing services.
На начальном этапе оператор может отказаться от перекодирования видео, однако это не позволит предоставить абонентам качественный сервис на Smart TV и мобильных устройствах, а также предоставить сервис через Интернет, не ограничиваясь своей локальной сетью.
At the initial stage, the operator may refuse to transcode video, however, this will not provide subscribers with a quality service on Smart TV and mobile devices, as well as provide a service via the Internet, not limited to the local network.
Depending on the number of channels and the number of recorded channels, a different number of transcoding and recording servers is required. All Microimpuls video products allow you to build clusters in such a way as to provide fault tolerance and redundancy of the service.
Edge cluster – a group of video servers dedicated to streaming video to end users. Microimpuls Spectr will also help with this task.
Several Spectr servers can be clustered together to create a fault-tolerant and geographically distributed network that can withstand a significant load from a large number of users simultaneously browsing the service.
Start-ups with a small number of users may want to keep things simple, since Spectr used as Origin can also stream video to end devices.
IPTV operators that broadcast only Multicast in their network and do not yet need the support of Smart TV and mobile devices can do without video processing servers by broadcasting Multicast directly from the headend. If you need to implement services of delayed viewing and pause, you can also use the MicroPVR software, because it allows you to record the original streams without re-encoding.
DRM and CAS
Further on the diagram there is a DRM key management server – this is a content access key management server. To be able to show premium content to subscribers, it is often necessary to use DRM encryption. How it works – at the stage of preparing the content, it is encrypted and transmitted to the subscriber in encrypted form, when playback starts, the device accesses the key server, and if viewing is allowed for this user, then he is given a decryption key.
Various user platforms (Apple, Google, Microsoft and others) offer their own tools for DRM. Microimpuls products allow you to use all popular DRM solutions, as well as all popular Conditional Access Systems (CAS).
To reduce the cost of supporting various DRMs, Microimpuls, in partnership with Irdeto, offers a universal DRM solution – Irdeto Control, which has a single API for working with keys and automatically sends requests to the API of each platform.
For start-up companies, the introduction of commercial DRM and CAS systems can be postponed to later stages, and the one-time token mechanism built into Microimpuls products can be used to protect content in OTT services, which is sufficient for guaranteed protection against theft.
Middleware servers cluster
The core of the IPTV/OTT service is the Middleware server. This is the main product of our company – Microimpuls Smarty.
Smarty is an interactive TV and online cinema service management system. Smarty ensures the interaction of user devices and applications with the service, authenticates and authorizes user accounts, manages content, video servers, billing, devices, subscriptions, keeps track of TV viewing and performs many other tasks.
Applications interact with the Smarty server through the TV-Middleware API, as well as the Payment API (for making payments from the screen) and the ViewStats API (TV viewing analysis).
Large companies can use several Smarty servers in cluster mode to build a fault-tolerant service that can serve a very large number of users online.
For small operators, there is a light version Smarty Lite, which allows you to start with a small budget, and then seamlessly migrate to the main version of the platform.
External billing system
Usually for the implementation of their commercial activities, operators use automated settlement systems (ACS) – in other words billing systems. The diagram in the External billing system block and the connection between the Billing API and Content API shows the possibility of integrating the operator's billing system and the Smarty control server, which allows you to automate the processes of managing subscribers and their subscriptions, as well as managing content.
Thanks to this possibility, employees of the relevant services of the operator can work in their usual environment – billing, and all operations will be automatically duplicated in Smarty. There is also feedback – Smarty will request the information necessary for work directly in the billing system.
Monitoring & provisioning servers cluster
Next in the diagram is the block Monitoring & provisioning servers cluster – a monitoring and provisioning server MVision, which allows to collect a lot of metrics from user devices and applications for timely response of the support service to emerging problems, for monitoring the content delivery network through users, as well as for managing devices – the system allows you to execute commands for updating firmware, installing and uninstalling applications, resetting settings, etc. Data are collected from devices via the MVision API.
Thanks to the Monitoring API, it is possible to integrate an external operator monitoring system with the MVision server to automate the control of the delivery network and devices.
Just like other Microimpuls products, MVision can be used in cluster mode to provide fault tolerance and service a large number of devices.
Microimpuls products on the diagram
Using Microimpuls products in combination with products from other manufacturers
We try to create and develop each product in such a way that it integrates as well as possible with our other products, but not only with them – using an open architecture, having an API, and working with partners allows us to use Microimpuls products in combination with products from other companies. For example, you can use the Smarty Middleware management system, but use solutions from other companies for transcoding and streaming, or vice versa.