Get a free trial

→
MicroPVR is a multifunctional TV recording software that allows to run various non-linear TV services. Provide your subscribers with an opportunity to use the key benefits of interactive television!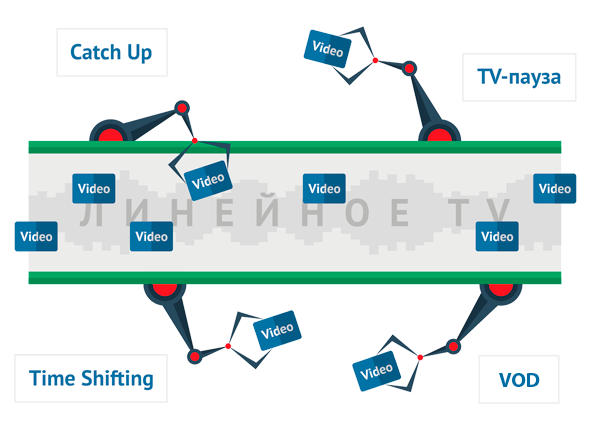 Subscribers can now watch their favorite programs at any convenient time and record entertainment shows, as well as put live broadcasts on pause.
Increased productivity with three level memory
MicroPVR is designed and developed with a high workload of subscribers on the delayed viewing service and VOD in mind, especially the rewind and pause functions. It results in highly effective disk storage use due to HDD, SSD and RAM caching for long-term storage.
Provide your subscribers with more opportunities to use the services of non-linear TV:
Catch Up — allows to record programs for watching at any convenient time.
Time Shifting — enables to watch programs aired over the past days.
ТV-pause— allows to put a live program on pause.
MicroPVR benefits
It has high efficiency due to simultaneous recording on various types of mediums (HDD, SSD, Memory) and its access rate.
It enables advanced control and monitoring features in integration with Middleware Smarty. It's also compatible with other platforms through API.
It provides long-term storage and fault tolerance: MicroPVR automatically restores to its original condition during server reboots. It controls the recording process and free space in storage.
It's integrated with Microimpuls software solutions for transcoding video. It supports ingesting content function, as well as the VOD management function via Middleware Smarty administrative panel.
Additional materials
By clicking the "Submit" button, you consent to the storage and processing of data. The information will only be used to contact you.